Your competition is fierce so utilizing the best marketing automation software will help you get more customers for your business.
Automated marketing tools and services can save you time, manpower and energy while increasing your productivity. Get Do-It-Yourself Marketing Resources and Done-For-You Marketing Services to help build your business.
Content Creation
Content marketing has the power to attract leads and customers long-term. Share interesting and informative content to your targeted audience.
Brand Identity
Build a memorable and trustworthy brand that reinforces customer loyalty with your best customers. Get the right tools and services to automate your referral marketing.
Sales Funnels
Automated sales funnel software is an effective tool that operates at a mere fraction of the cost of building a full website and marketing teams for your business.
Marketing Strategy
Your customers are turning to the Internet to find your products and services. Increase your chances of success with marketing checklists, marketing plans and templates.
Web Design
Build your own high converting mobile friendly website or have it done-for-you. Easy to use website templates and themes that fit your business needs.
Social Media
Social media marketing is an essential component of any small business's digital marketing strategy. Get Social Media automation and assets to fit your business needs.
Artificial Intelligence In Digital Marketing!
Be better prepared and in a better position than 99.9% of other business owners. Artificial Intelligence allows a business to be resilient and to thrive in a changing environment
Artificial Intelligence (AI)
Artificial Intelligence (AI) and machine learning have the potential to completely change the face of internet marketing, rendering many older strategies obsolete. Building your marketing system with A.I. can explode your business.
AI is something that we used to associate with science fiction. Now, it is a big part of our reality right now and drives many of the mundane services we take for granted. As technology continues to evolve, we will find A.I. in almost every area of our lives.
Does your content capture your audience? As a business owner, you are too busy to create content that does not capture your audience's attention.  You don't create content just for the sake of creating it.  You don't just spit out content just for the sake of...
read more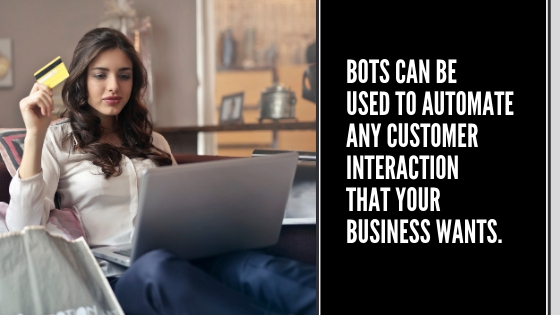 When it comes to promoting your business, it's very easy to waste a lot of time online doing tasks that produce little to no results. If you want real results focus on using Facebook Messenger Bots to simplify your sales funnel process and marketing on social media.
read more